Video conferencing setup
Are you a business that has the option of working remote? You can easily connect Bookedin to your Zoom or Skype and provide your clients an easy way to book an appointment and meet with you virtually. Here's how to set things up:
Set up video conferencing
Set up an account using one of the popular online meeting apps. Ex Zoom, Skype, Google Meet etc. Then all you need to do is copy your meeting invitation. Here's an example from Zoom.
Paste your link/invite into Bookedin
You can do this in either the service settings or manually on any individual appointment.
AUTOMATICALLY ADD TO SERVICES:
Log into Bookedin web or the mobile app (iPhone / Android)
Go to Settings > Services then click to edit an individual service.
Under Video Conferencing, paste the video conferencing link you just copied from Zoom/Skype etc.

Hit save and voila! Now all clients that book that service can easily join a video conferencing link for their appointment.
Optional: repeat the above steps for your other services.
MANUALLY ADD TO INDIVIDUAL APPOINTMENTS
This is helpful if you originally planned to meet in person, but have to switch to a virtual one randomly due to illness or unforeseen circumstance.
Go to your Calendar

click or tap any appointment, then tap

Change.
Click Add video conferencing then paste in your link. If you aren't seeing this option, click here to learn how to enable it.
Here's what your clients will see
A video icon will appear on your services and clients can easily book & join the call via the reminders.

Online booking page: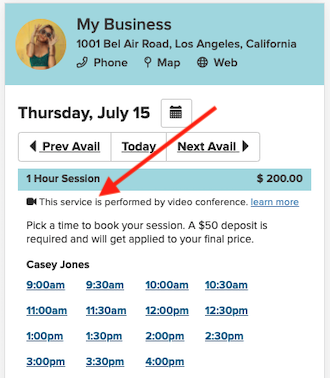 Thank you page:


Confirmation & reminder texts:



Confirmation & reminder emails: