Same-day only appointments
Same-day only appointments are popular in the medical industry and are really easy to set up with Bookedin.
Doctors, pediatricians, and other health care professionals prefer to limit how patients can book appointments online. Sometimes it's better to only let people make a booking the day-of, instead of letting people book days, weeks or even months in advance.
How to set up same-day online appointments:
Sign in to your account or create a new one
Go to Settings > Calendars in the top menu

Choose "edit" next to your staff or Doctor's name

Under Advanced Options, change "Lead Time" to 0 minutes
Change "Advance Booking Limit" to 1 day
Ensure Recurring Hours are correct
Hit Save

Finally, let's add some instructions so your patients know what to do. Go to Settings > Services

Choose "edit" on your service

On the edit screen, copy+paste this text into your service description:
Please choose a time to book today. Appointments must be made on the day of. If you do not see an available time today, please check back first thing tomorrow morning to make an appointment to see the Doctor.


Hit save
You're done! To see your changes, check out your public online booking page. It will now look something like this: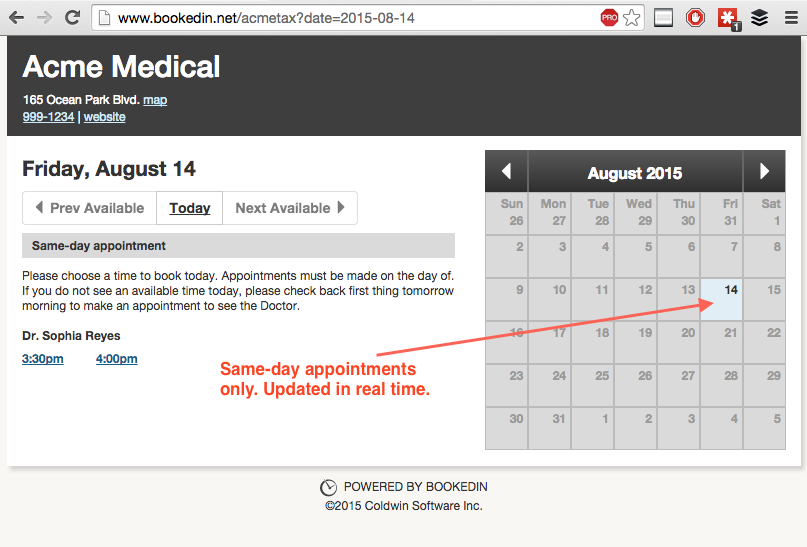 NOTE: After setting this up, you will still be able to book patients on any desired date within your private scheduler. The above settings simply control how patients can book themselves in via your public online booking page.